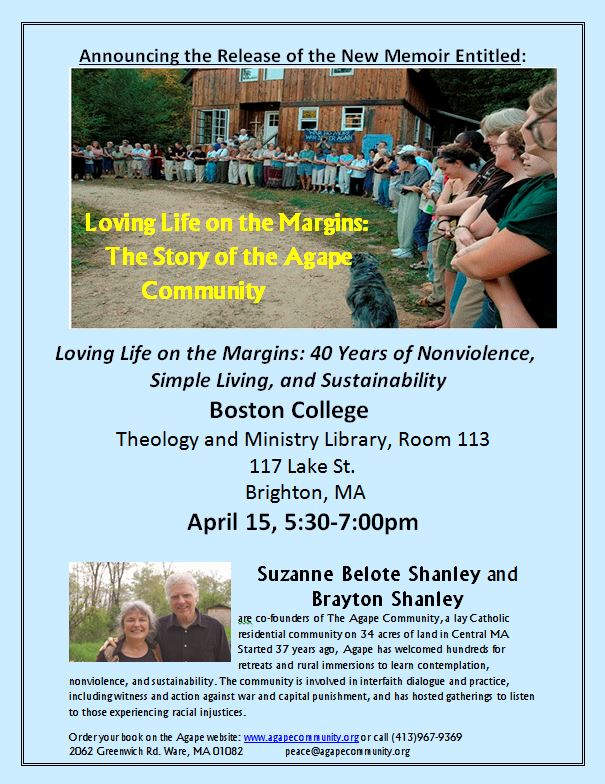 TML Speaks – "Loving Life on the Margins"
This program explores the remarkable story of the Agape Community, a residential, lay Catholic Community dedicated to prayer, voluntary simplicity, and gospel-centered nonviolent witness in the world
 Wednesday, April 15 at 5:30pm to 7:00pm
 Theology and Ministry Library, Auditorium (Room 113) 117 Lake Street, Brighton, MA
"Loving Life on the Margins: 38 Years of Nonviolence, Simple Living, and Sustainability"
Our fragile planet and its inhabitants cry out for a new way of being.  From our unstable, divisive politics to climate change, Christians are called to return to our foundation document, the gospel of nonviolent love, radical simplicity, and sustainable living.
Suzanne Belote Shanley and Brayton Shanley, co-founders in 1982 of The Agape Community, have been experimenting with learning and living nonviolent love on 34 acres of land in Central Massachusetts with other community members, interns and volunteers.
Suzanne and Brayton will comment on and read from their co-authored book, Loving Life on the Margins: The Story of the Agape Community, detailing how the extended Agape community members built the community from the ground; offer courses and programs at Agape on peacemaking for college students; built a straw bale house with a compost toilet and power the entire community on solar energy.
Suzanne Belote Shanley and Brayton Shanley are co-founders of The Agape Community, a lay Catholic residential community on 34 acres of land in Central MA Started 37 years ago, Agape has welcomed hundreds for retreats and rural immersions to learn contemplation, nonviolence, and sustainability. The community is involved in interfaith dialogue and practice, including witness and action against war and capital punishment, and has hosted gatherings to listen to those experiencing racial injustices.