Impromptu Jewish-Muslim Reconciliation Ceremony Held at Agape's 40th Anniversary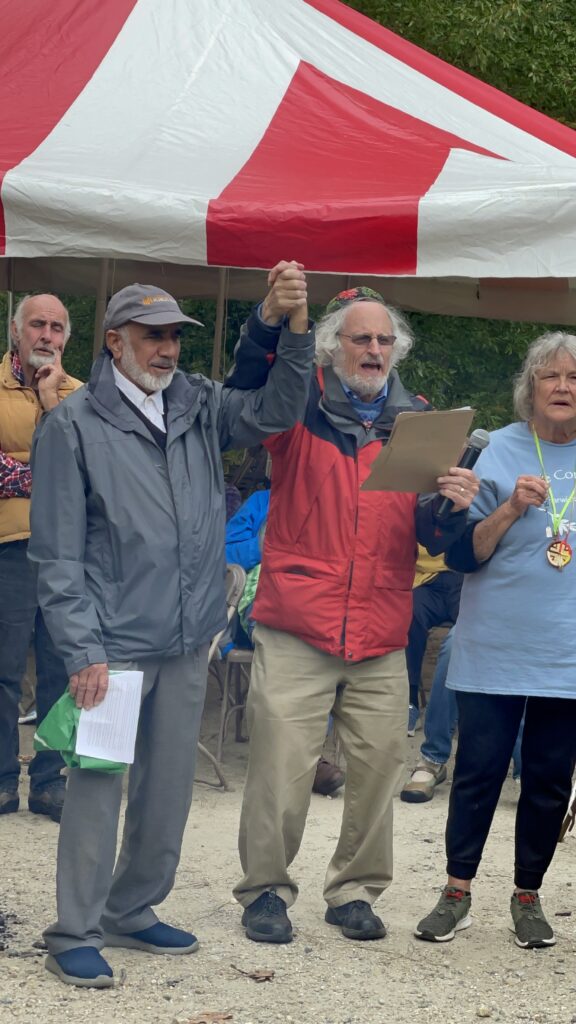 Jim Levinson gave the following reflection at Agape's Cedar tree dedicated to Israel/Palestine Peace.
"Bajwa Bhai, Azeem Bhai, Sabna, Ali, Amar, Could you come up here and stand with me?
First let us take a moment of silence to remember the great many Pakistanis killed in the tragic floods afflicting that country.
And now a moment of silence to remember the large number of Iraqis killed in wars at the end of the last century.
I'd like to remember some special times and moments:
The "Golden Age of Judaism" in the 13th and 14th centuries in Spain when that country was under Muslim rule, and when Muslim and Jewish mystics sometimes met together to share their wisdom;
A meeting between the Jewish statesman Chaim Weitzman and the King of Jordan, 100 years ago – pledging to work side by side in the Holy Land – a meeting translated and facilitated by Lawrence of Arabia;
An opportunity to chant the Surah Al-Fatihah from the Quran at an historic interfaith service while an Imam from West Africa chanted the Sh'ma;
Reading the words of the Muslim scholar and mystic Ibn-al-Arabi from the 12th century who was equally at home in a synagogue, temple, church or mosque since, he believed, no faith has a monopoly on truth. And he wrote:
Do not praise your own faith so exclusively that you disbelieve all the rest. If you do this, you will fail to recognize the real truth of the matter. God, the omnipresent and omnipotent cannot be confined to any one creed, for – quoting the Quran 2:115: Wheresoever ye turn, there is the face of God
Visiting Gilgit and Hunza in Pakistan – as close as we will come to experiencing Paradise in this lifetime
This has been a time of tragic conflict and misunderstanding between our peoples. But today, as we celebrate this very special day for Agape, let us also pledge a new beginning, let us proclaim a new era, an era of understanding and deep connection and, yes, nothing less than agape, unconditional love, between our peoples.
Let us call out together that pledge, first in English:
Muslim and Jew, together forever
Now in Arabic:
al-muslim wal yahudii, ma'an ilal abad
And finally in Hebrew:
musl'mim v'yhudim yăcḥăd l'olam
Amen"