Agape Visits Annunciation House and Mustard Seed Catholic Worker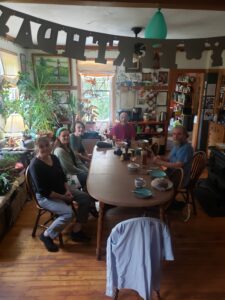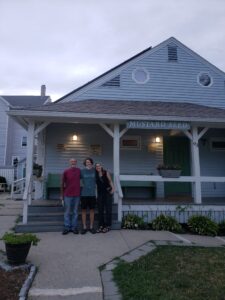 By A. Borus
Last month I had the pleasure of bringing, Izzy and Ryan, August '22 Agape Interns, and Barry, Brayton's childhood friend and recurring month-long visitor to Agape, around a few of my favorite spots in Worcester, MA.
First we visited Mike and Dianne Boover's home, called Annunciation House, for a tour of their extensive "Urban Garden" and the Hound of Heaven Chapel. Afterwards the Boovers treated us to some zucchini bread and mint tea, made from ingredients in their garden. Dianne is a great hostess and we found it difficult to leave the great conversation and delicious food, but we had plans to head to the Mustard Seed Catholic Worker to help with serving their evening meal.
At the Mustard Seed, Izzy, Ryan, and Barry helped out by passing out meals and drinks, and chatting with the guests. The Mustard Seed feeds over 100 people each weekday evening, and there is never a lack of things to do. After the meal was served Mike Boover, who cofounded "The Seed", gave us a tour of the building and talked about the Mustard Seed's 50 year history.
Our last stop was the Cool Licks Ice Cream Shop, just a short walk from the Mustard Seed. Don't tell Suzanne and Brayton that I bought Izzy and Ryan non-vegan ice-cream!