Family in a Van: A Wild Adventure Still Unfolding
When Brayton got the initial phone call from Courtney Hayes-Jurcheck, that she and her husband John Jurcheck, both 41 years of age, who, with their sons, Luca, 5 and Oliver, 9 were traveling to farm and WWOOFING sites in a 1987 Vanagon, we were excited about their romantic, counter-cultural adventure.  They wanted to spend time at Agape as an intern family.
We learned that they had been traveling and living in their van for 7 months, learning how to live simply, with much less than they previously thought possible. In their words: "Our motivation for this journey stemmed from our deep desire to connect with new communities, nature, and ourselves." They told us that "we want to serve others, to learn life skills that we did not learn living in the city."   "Support and serve" are delicious words to any community.  In addition, they shared that they wanted to "put our professional skills for performance, events, planning, management, public speaking, teaching and more to use in other capacities than we have used in the past to help support the communities we join."  Wow, we thought…Yes!  But for both this Mom and Dad, "One of the biggest motivations they said they had was: "to give our boys a true, deep and meaningful experience."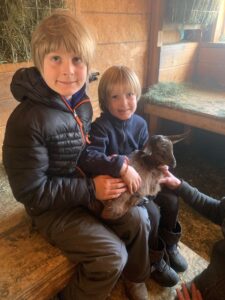 We were drawn to the fact that John and Courtney were pursuing anti-racist training as well as working on nonviolent communication with their boys daily. They arrived and stayed for three weeks, returned again, and will come for the upcoming Agape workday and stay again to give and give and give of themselves. If you would like to learn more about their journey, please check out their Instagram @theotherhighway and if you would like to support them by sending them a donation, you can do so on their Venmo: @john-Jurcheck.