A New Friend Joins Agape for Retreat
"Mikey" came to Agape for a silent retreat, through Agape's relationship with Sr. Jane Morrissey and The Peace Pagoda.  He joined us for morning prayer, blessed the hermitage and its sacred presence with his great vibes, and offered stunning commentaries on how Jesus claimed his life.  The hermitage is made more sacred by his gift of Presence. Below, you can see Mikey playing one of his original songs for our mid-day prayer.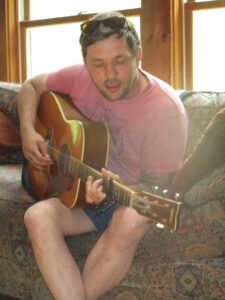 Tags: community, friends, hermitage, music, retreat
Trackback from your site.