The Execution of Lezmond Mitchell: Life and Death in 2020
by Jim Robinson In her address to the 2020 Republican National Convention on August 26th, Sr. Deirdre Byrne, a member of the Little Workers of the Sacred Hearts of Jesus and Mary, referred to Donald Trump as "the most pro-life president this nation has ever had, defending life at all stages." From Byrne's perspective, Trump's "belief in the sanctity of life transcends politics." At 6:29 p.m. that very day, Lezmond Charles Mitchell was pronounced dead. Mitchell, a 38-year-old member of the Navajo Nation, was executed by lethal injection at the U.S. Penitentiary in Terre Haute, Indiana. The Navajo Nation had explicitly and persistently opposed the execution of Mitchell, had requested clemency, and had proposed the possibility of shifting his sentence to life in prison without parole. The extreme dissonance between Mitchell's actual execution and Sr. Byrne's characterization of Donald Trump is shocking. And yet, the extravagant language employed by Sr. Byrne—language that hovers in radical disconnection from concrete reality, and which, in fact, functions to obscure a rational engagement with concrete reality—is nothing new to us. Byrne's endorsement of Trump comes across as an echo of the president's own self-promotional statements, which abound at his rallies and press conferences, on social media and in interviews. Sr. Byrne does not speak alone. Her endorsement of Donald Trump not only resonates closely with the president's own rhetoric, it emerges from and serves to buttress the perspective of a whole cohort of American Catholic voters. (We must recall, here, that in the 2016 election, 60% of white Catholics voted for Trump over Hillary Clinton). This cohort of Catholics subscribes to the position that Donald Trump is "pro-life" and that his "pro-life" stance either compels them to endorse him, or, at the very least, justifies their doing so. On the day of Mitchell's death, the Navajo Nation released a statement lamenting the fact that their request for clemency, which was amplified by a range of senators, representatives, Tribal Nations, and other organizations, was rejected. As the Navajo Nation has it, "our collective voice was ignored." In addition to being a grave transgression of the dignity of a particular human life, the crushing of a living and breathing human being who wanted to go on living and breathing, the execution of Lezmond Mitchell is also a grave transgression of the Navajo worldview and Navajo sovereignty. As the Nation has it, "We don't expect federal officials to understand our strongly held traditions of clan relationship, keeping harmony in our communities, and holding life sacred. What we do expect, no, what we demand, is respect for our People, for our Tribal Nation, and we will not be pushed aside any longer." The killing of Lezmond Mitchell is, additionally, a significant transgression of the Catholic worldview. The practice of capital punishment collides violently with the principles of Catholic Social Teaching. According to the Catechism of the Catholic Church, "the Church teaches, in the light of the Gospel, that 'the death penalty is inadmissible because it is an attack on the inviolability and dignity of the person,'" and the Church "works with determination for its abolition worldwide." Donald Trump is a staunch and outspoken advocate of capital punishment, and the death of Lezmond Mitchell is inextricable from Trump's position on the issue. Prior to the summer of 2020, it had been 17 years since the federal government executed a single person in prison. Since July, Daniel Lewis Lee, Wesley Ira Purkey, Dustin Lee Honken, Lezmond Charles Mitchell, Keith Dwayne Nelson, William Emmett Lecroy, Jr., and, most recently, Christopher Andre Vialva, have been poisoned to death in Terre Haute. Vialva, a 40-year-old Black man, was executed for a crime he committed as a teenager. On September 22, 2020, two days before the execution of Vialva, Archbishop Joseph F. Naumann, chairman of the United States Conference of Catholic Bishops' (USCCB) Committee on Pro-Life Activites, and Archbishop Paul S. Coakley, chairman of the USCCB Committee on Domestic Justice and Human Development, released a statement in response to the federal executions. In the letter, they assert that "executions are completely unnecessary and unacceptable, as Popes St. John Paul II, Benedict XVI, and Francis have all articulated." And they "say to President Trump and Attorney General Barr: Enough. Stop these executions." May Catholics attend to the gravity of Lezmond Mitchell's execution, sensing the extreme dissonance between "pro-life" rhetoric and this concrete act of state-sanctioned violence. May we deeply mourn Mitchell's wrongful death, never forgetting this radical transgression against his dignity and the integrity of the Navajo Nation. May the memory of Lezmond Mitchell join with the memories of Daniel Lewis Lee, Wesley Ira Purkey, Dustin Lee Honken, Keith Dwayne Nelson, William Emmett Lecroy, Jr., and Christopher Andre Vialva to form a haunting force that shatters the illusion that Donald Trump is "the most pro-life president this nation has ever had, defending life at all stages." The next federal execution is scheduled for November 19, 2020. If the status quo persists, Orlando Cordia Hall, a 49-year-old Black man, will be poisoned to death in Terre Haute. As election day approaches, may we declare a firm "NO!" to the Trump administration and its death-dealing policies.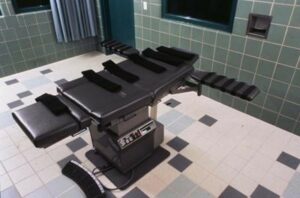 Jim Robinson is a member of Agape Community's Mission Council. He graduated from Fordham University's doctoral program in Theology in May, 2020.
Tags: 2020, Death Penalty, Election, Life, nonviolence