The Marvelous Did Happen (Servant Song of Winter 2020 is Released!)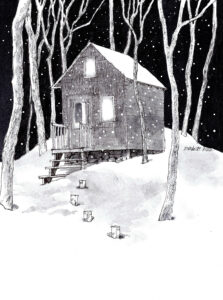 What follows is the front page of this most recent Servant Song. To find the rest, click here for a pdf version or explore them on the website by clicking here. The Marvelous Did Happen by Suzanne Belote Shanley "…it was/flame and song and granted us/joy, we thought we'd do, be, revisit, / the marvelous did happen in our lives, our stories are not drab. …: but don't /expect now to return for more. …" Denise Levertov ("Once Only" from This Great Unknowing) I ponder these words of the poet, Denise Levertov, as I reflect on the completion of Loving Life on the Margins: The Story of the Agape Community and beginning a book tour. Four years of effort, left Brayton and me weary of writing, yet aware of "flame and song" that were "granted us" in the process. Taking Loving Life on the road these past months, we attempted to ignite the lineage of nonviolent community and sing its praises. The "marvelous" as Levertov phrases it, "did happen in our lives," over a span of 40 years. As I read Levertov's poems in "The Great Unknowing: Last Poems," written when she was my age now, I know that these encounters with "flame and song" possess a uniqueness and unrepeatability. The fire of community and the song of its unfolding are "our stories," yes, but they are rooted in time and also belong to the people who inhabit them. Professor Emeritus of College of the Holy Cross, David O'Brien, comments on "life choices" in his foreward to the book. He suggests that individuals in communities like Agape are called "to the margins, or to what Pope Francis calls 'the periphery'" It is our hope that in telling this story, people will join us there. What follows are highlights of sharing of our life on the "periphery" that we carried to the first landings of a year-long book tour. Just Faith and Holy Cross Parish, Springfield, MA We began the tour last June, with Holy Cross Parish in East Longmeadow, Massachusetts, hosted by our Just Faith friends, endearingly spear-headed by Deacon Bill Toller. Agape's history with Springfield dates back to the 1980's with Sr. Jane Morrissey and her order, the Sisters of St. Joseph. Just Faith has been a catalyst for ongoing formation in nonviolence in the region, instituting yearly visits to Agape as part of a "border crossing" segment of its curriculum. At Holy Cross, we were enveloped in a force-field of love reflected in the ethnic and racial diversity of friends who attended. This love speaks perhaps of Agape's recent attempts to listen to the voices of Muslims, such as Tahirah Amatul Wadud and Mohammad Bajwa from the Islamic Society of Western Massachusetts who attended the signing, as well as listening to the voices of Native Americans and to those experiencing racial and ethnic oppression. We shared Agape's interfaith efforts while addressing the theme of racism and white supremacy. That evening, we reinforced the need for all peacemaking communities, to make more efforts at inclusivity and diversity. We confided that our mission is to serve as scribes, faithfully recording a shared legacy. This theme continued to build and grow as the tour continued. Mustard Seed Catholic Worker, Worcester, MA Agape shares a mutual and parallel history with Michael Boover and our Catholic Worker "family" at the Mustard Seed soup kitchen. Michael's recent review of Loving Life on the Margins which appeared in the NY Catholic Worker (August-September, 2019) reveals the author's brilliant writing style and his own history with Agape as he comments on the "synthesis and newness" in our following together traditions of "utopian community's visionary, pacifist mantle." We recalled Fr. Bernie Gilgun, a founder of Mustard Seed, and Brayton recounted the life of his uncle, Joseph McDonald, an early Catholic Worker, who knew Dorothy Day and hosted her at St. Anselm College. The local Manchester, New Hampshire paper decried the presence of a "Communist" at the local Catholic College. David O'Brien, who, with his wife, Joanne, have been Agape stalwarts, graciously writes in the book's foreward that the "central theme of the Agape story" is that of the attempt with "many friends" for "four decades to live an answer to the question": "What would Jesus do?" Certainly, these highlights, shared at each reading, are marvels more than the "once" of Levertov's poem, and in the next year, we do "expect now to return for more." We realize that our lives need to be creatively evolved, in the words of Brayton's chapter "Does Traditional Religion Have a Future?" We will be asking such questions ongoing. Hardwick Town House, Hardwick, MA Our home town library in Hardwick, Massachusetts sponsored a reading at Hardwick's Town House. We evoked "songs" of the sacred land, the Quabbin Reservoir watershed and its Nipmuck Native history. We recounted "the marvelous" when Chief Arvol Looking Horse, Chief of Standing Rock, came to Agape land in Hardwick. We paid tribute to the first peoples here, members of the Nipmuck tribe. This tribal history and Chief Arvol's visit, memorialized in the book, made of Agape's 34 acres, a place of "flame" as we lit the sacred fire. We burned the Doctrine of Discovery, the white supremacist legitimization of the theft of native land by genocide, and planted its ashes under a Cedar tree. Lasalette Shrine, Enfield, NH Fr. John Sullivan hosted us at the Lasalette Shrine in Enfield, NH, with three different groups. John's spirit is captured in the pages of the book as a "companion priest," who is a regular at Agape. We took delight in reading to our audiences that John "reminds everyone he meets that each of us in our lay Catholic community sustains him in his ordained priesthood." Stonehill College and HOPE Book Launch Students at Stonehill College in Easton, Massachusetts, hosted a "book launch" involving environmentally aware students who had been at Agape for rural immersions. The students enthusiastically gave us a tour of the Stonehill Farm where vegetables are grown and then donated to local food pantries. HOPE students and faculty coordinator MaryAnne Davey are steadfast Agape regulars, who plant the Agape garden, cut and stack wood, which keeps community members guests warm through the winter months without fossil fuel. Sacred Heart Parish, Lexington MA Fran and Bob Ludwig, leaders in the The Boston Catholic Climate Movement which according to the movement's website, "serves Catholics in Massachusetts to put Pope Francis' Laudato Si encyclical into action for climate justice, by undergoing our own ecological conversion transforming our lifestyles and calling for bold public policies" invited us to their parish to speak on the topic, "To Silence a Divine Voice, or Live Sustainably: It's Our Choice." Bob with other friends from Lexington helped to build the straw bale house in the 90's. We pointed to his photo in the book showing him constructing the straw bale walls. Paulist Center, Boston MA At the Paulist Center, we relished reconnecting with old friends who had joined us in the 80's for protests and meetings of our resistance group, Ailanthus, at Haley House. Fr. Mike McGarry, administrator during some of the Paulist Center's turbulent days in the 80's and 90's, was present and joked about initially not really wanting to read the book, but after he started, how he then couldn't put it down. Bob and Tara Wegener, instrumental to the early years of community, attended the talk as did a new member of Agape's Mission Council, Dave Perkins, with his family. The teen Perkins' daughters, Grace and Hannah, oversaw the Agape table collecting money for the books. I read from a chapter, "Judy and Jahar", on the trial of Dzhokhar Tsarnaev, the so-called Marathon Bomber, noting how Joe Kebartas, a member of Veterans for Peace, had "paved the way" for Agape and other peace groups for participation in anti-death penalty vigils during the trial. Joe stood alone for many days, with a hand-held sign, "The Death Penalty is Murder." We all gave a shout out to Joe. I noted American Catholic Bishops' support of the invasion of Afghanistan and referenced Agape's alliance with Pax Christi, Just Faith, Catholic Workers, and religious orders, in creating The Catholic Call to Peacemaking, embracing nonviolence and encouraging resistance in the days of dread, leading to the invasion of Iraq. The Spirit of Life Community In the evening, after the Paulist Center, we landed at The Spirit of Life Community, co-founded by now Catholic Woman Priest Bishop, Jean Marchant and her husband Ron Hinderlang, rejoicing in Jean's ministry and vocation, grateful for their congregation's support. In addition, our fall tour included Elms College, where we reunited with Eileen Kirk, Sr. Carol Allan SSJ and Agape Latte students. Next, we traveled to The Lower Mills Branch Library in Dorchester, and the Marian Center in DeCice Hall in Holyoke Massachusetts where we were hosted by Sr. Chris Clarke, member of the Daughters of the Heart of Mary. Fordham University, NY We connected with Jim Robinson, an Agape Mission Council member, in his last year of PhD work in the Theology Department at Fordham as well as with long-time friend, Thomas Massaro SJ whom we knew at Boston College and at Jesuit School of Theology, Berkeley. We spoke in Tom's class as well as at a graduate school luncheon hosted by Professor Jeannine Hill Fletcher, whose searing book, The Sin of White Supremacy we had studied at the community. We rested well at the Jesuit Residence and strengthened our Fordham bonds, remembering Daniel Berrigan SJ, who died among his Jesuit brothers at Fordham. Mary House Catholic Worker, NY We brought bags of Agape veggies from Hardwick and dropped them off at St. Joseph's Catholic Worker before moving on to Mary House, walking the short distance between houses with Cathy Breen, resident at Mary House with Jane Sammon, both friends of many years. We spoke that evening about our links with the NY Catholic Worker, going back into the 80's when Jane took us to Eileen Egan's apartment for tea and conversation on war and peace as Eileen was completing her book, Peace Be With You: Justified Warfare or the Way of Nonviolence. I read from the Loving Life on the Margins about abortion: "The question of abortion became a key factor in my developing feminist consciousness: What does it mean to be nonviolent? What would Jesus have said about abortion? Could I be vocal in my protest of war, capital punishment, and nuclear weapons without protesting abortion?" Grace Episcopal Church, Amherst, MA In early November we returned to Grace Episcopal Church in Amherst, MA where we had been so warmly received with Brayton's first book, The Many Sides of Peace: Christian Nonviolence, the Contemplative Life and Sustainable Living. (Wipf and Stock) At Grace, I shared the chapter on Omar, Sabah and Ali, an Iraqi family part of our lives for fourteen years, as they continue to heal from the attack on their car after the American invasion of Iraq, and the trauma, death and devastation that ensued. Reading from the chapter entitled, The Children of War, I linked Omar to the Suffering Servant passages in Hebrew Scripture, writing: "I experienced Jesus standing before me in the innocent suffering of a child of war" who lost his mother in an American attack on their family car, and who himself was burned over 65% of his body. With more venues scheduled into the spring, we continue to cast the seeds of community, as few and as insignificant as they might seem. As return to the book pilgrimage road, we will be asking the question from the book's last chapter: "Who will take up the Agape mantle?" As Denise Levertov wrote and we continue to experience, "the marvelous did happen in our lives, our stories are not drab. …" but, only the unknown future will determine if we will or will not "expect now to return for more. …"

Trackback from your site.