An Inspiring Young Person's Anticipation and Hope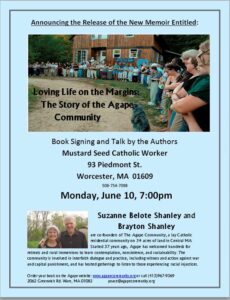 Loving Life on the Margins: The Story of the Agape Community An Alumna's Book Review in Anticipation of Upcoming Stonehill Event If you are looking for a handbook to hope and healing amidst the stress of everyday life, look no further than Loving Life on the Margins: The Story of the Agape Community.  This 315-page book, written by husband and wife Brayton Shanley and Suzanne Belote Shanley, serves as both a memoir and an action plan to combat seemingly overwhelming challenges facing our world today, from climate change to racial injustice to gender inequality. Loving Life on the Margins shares a chronological history of Agape, which the authors founded as a nonviolent, sustainable, contemplative Catholic community sharing God's unending love with people of all ages, races, faiths, and identities.  Illustrations and photographs sprinkled throughout the book add visual understanding to Brayton's and Suzanne's story telling and allow readers to connect more deeply with the various characters that make up Agape's dynamic community.  Brayton and Suzanne narrate different sections, giving the book a conversational tone and inviting readers to interact with its themes in a way that will make the unique journey of Agape's founders relevant to readers' own lives. At each point in the text when the reader may wish to challenge the authors' thought process, Brayton and Suzanne anticipate just such questions.  They directly acknowledge the readers' thoughts and further explain how their loving community offers a much-needed respite to the draining realities of modern society while still taking action to positively change those realities. Agape is not a place of hiding.  It is a place of deep awareness and love that provide strength in the fight against injustice.  Loving Life on the Margins is proof of such, depicting Brayton's and Suzanne's everyday choices to promote love in our world, from chasing woodchucks from their garden to protesting nonviolently at Standing Rock.  Brayton and Suzanne share cherished memories and dreams accomplished that began with their distress during the Vietnam War and a promise of love and fidelity to each other in marriage.  They discuss the overwhelming joy that comes with reaching a goal to promote peace; they also share shortcomings that they recognize in their own humanity as they attempt to make divine love manifest on Earth.  Their book is a call to tangible Catholic living – a living beyond the sacraments and Church rituals that many young people have trouble connecting with. It raises important questions about the best way to be present and lead loving, good, spiritual lives, including: why does modern culture value violence, especially as a response to violence (the death penalty, or abortion, for example); why are thoughtfulness and introspection so important for a loving, centered life; how do modern systems and trends, such as the food system and consumerism, impact people, the environment, American culture, and our world as a whole; what role does modern technology play in our lives, both good and bad, as we seek meaning and love? Loving Life on the Margins probes readers "yearning for an authentic life" (306) – the same yearning that all people feel.  I recommend that anyone seeking hope, peace, simplicity, love, and an alternative to modern routines (ideals that all people search for daily) read Loving Life on the Margins.  If you would like to read this deeply human account of companionship, sustainability, and nonviolence, you can purchase a copy on Agape's website: https://agapecommunity.org/loving-life-on-the-margins-the- story-of-the-agape-community/. Better yet, if you would like to meet the authors, Brayton and Suzanne will visit Stonehill on October 21 st to discuss their book and community life.  Loving Life on the Margins concludes with a recognition of the vital role that young people play in the future of peace, faith, and community.  Brayton and Suzanne would love to converse with Stonehill students, some of whom have visited Agape for events and immersive HOPE trips.  Become part of the dialogue surrounding nonviolence and sustainability by attending their book event!

Trackback from your site.