May 2018 Stonehill College Rural Immersion
by Rachel Riani
At the end of May, eight of my fellow classmates at Stonehill College along with two faculty members went on an H.O.P.E. (Honoring our neighbor, Organizing for Justice, Practicing Peace, and Encountering God) trip to Hardwick, Massachusetts to serve the Agape Community for six days to learn about sustainable living and gardening.
Agape was not our original destination as we had planning for an immersion in Chacraseca, Nicaragua for two weeks, but our trip was cancelled due to unrest in the country.  However, the co-founders of Agape, along with Dixon George, a community chef and gardener and Aria their intern, shared stories about Agape and gave us their undivided attention and assistance in conversations and outside working in the garden or stacking wood for the winter.
We also heard from Elena Creef, a professor of gender studies at Wellesley College, who has joined riders on horseback from Native American reservations to Wounded Knee, remembering the massacre of hundreds of Native people that occurred there. As a horseback rider myself, I couldn't help but be drawn to both the dedication of the riders, both children and adults and the horses' willingness to gallop and continue no matter what the weather.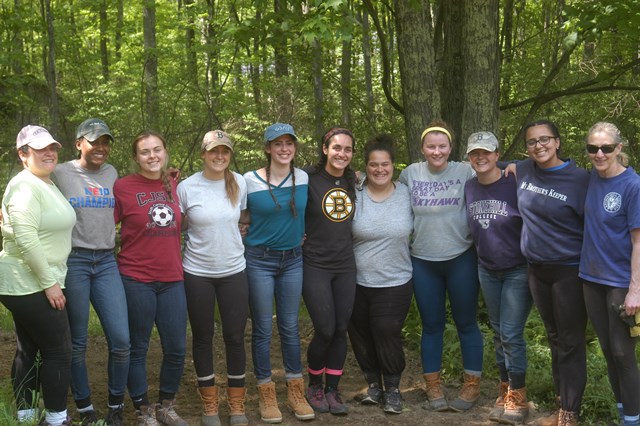 On our final walk through in the vegetable, herb and rock garden on Saturday morning, I felt a sense of accomplishment seeing firsthand how many vegetables we planted, all the soil that was turned, and the heavy rocks we lifted so that beautiful flowers will bloom in the rock garden.
Many of us reflected on how much work we did as a team, having difficulty imagining how those who are at Agape year-round do this kind of work everyday. Cultivating the garden, I learned so much about a connecting with the Earth, touching fresh soil with my bare fingertips and then getting the vegetables onto my plate.
The night I got home, I ate watermelon with my dinner, realizing as my dad cut it up that the rinds would end up in the trash. Before my dad had a chance to throw them out, I stopped him. "We can compost those for the garden!" I told him.
I definitely want to help my mom in her herb and vegetable garden.  As someone who had no prior gardening experience before our first day at Agape, it's exciting to know something as little as how to stretch out the roots of the plant before putting it in the ground.
Prayer, a critical component of our experience, is a value of a Catholic lay community. Our reflections, songs, drumming circle, and prayers left me with a refreshed feeling that I can celebrate faith in ways I hadn't thought of before.
Our HOPE trip to Agape taught us all about how to live simply, address important issues regarding nonviolence, and how to stop and breathe. Our minutes of meditation and week without our cell phones allowed us to finally slow down after the last few weeks of the academic semester. I am especially thankful for this aspect of the experience, as were those in my group.
We can all take a deep breath and slow down, experiencing the amazing universe that provides us with so much we shouldn't take for granted. We can only hope to continue the magnificent work of the Agape Community, to care for our Earth—work that certainly isn't done yet.