"We Need an Energy Shift to Heal Our Mother Earth"  Chief Arvol Looking Horse: Lakota, Dakota, Nakota Nations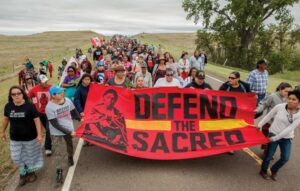 "I, Chief Looking Horse, of the Lakota, Dakota and Nakota Nations, ask  you to understand an Indigenous perspective on what has happened in America, that we call 'Turtle island'…recognize the importance of Sacred Sites and realize the interconnectedness of what is happening today…continued massacres…on other lands and our own Americas.
Our ancestors never saw a satellite view of this site…the Sacred Black Hills in South Dakota, in the shape of a heart…a heart pumping…endangered, as are the lungs of the planet.  Endangered as the rainforests and the Coral Reefs, Mother Earth's blood purifiers…by oil drilling and coal extraction from the liver of the earth, The Big Mountain, the Sacred Black Hills.
We fail to appreciate and honor our Sacred Sites, ripping out the minerals and gifts that lay underneath them as if Mother Earth were simply a resource instead of the source of life itself. Attacking nations and using more resources to carry out destruction in the name of peace is not the answer!
A disease of mind has set in on our world leaders and many members of our global community. …   Either unite spiritually as a global nation or be faced with chaos, disasters, diseases, and tears from our relatives' eyes.  …Mother Earth is becoming tired and cannot sustain any more impacts of war.
I ask you to join me on this endeavor.  Our vision is of the peoples of all continents…to come together as one at their Sacred Sites, to pray and meditate and commune with one another, thus promoting an energy shift to heal our Mother Earth and achieve a universal consciousness toward attaining peace."
Commentary from Living on Earth  Air Date: August 4, 2017, "The Dakota Access Pipeline under construction."
"Today, even though the Black Snake, the 1,200 mile long Dakota Access Pipeline (DAPL) was not defeated at Standing Rock and in May, thousands of barrels of fracked crude oil began flowing through that pipeline, to Illinois and to the Gulf Coast, a dozen more Standing Rocks have emerged on multiple front lines across the United States, against what is called the US 'petrostate'."
Lorne Stockman of Oil Change International  writes:  "The oil and gas industry is wrapping itself in the flag and talking about energy independence" while "turning the country into a resource colony for export of oil and gas." Thus, the "huge battle" at Standing Rock was fought so that "US crude oil could leave the country in a … massive build-up of tens of billions of dollars in pipelines, oil storage tanks and export terminals."
"The Heart of Mother Earth": (Catholic Worker journal, January-February, 2017): Chief Arvol speaks: 
"I ask all nations to begin a global effort… To us, as caretakers of the heart of Mother Earth, falls the responsibility of turning back the powers of destruction….You alone—and only you—can make this crucial choice turn back the powers of destruction. …On your decision depends the fate of the entire world."
Standing Rock is Everywhere:
A Ramapough Lenape Nation on the New Jersey/New York border
Another Tribe responding to Chief Arvol's call is that the indigenous people of Mahwah, N.J. where "the tribe has an embattled history marked by colonial occupation, environmental degradation, discrimination and clashes with politicians and real estate developers…trying to stave off eradication and invisibility."  (NYTimes, April 14, 2017)   Chief Perry, or by his tribal name, Iron Bear, is organizing his tribe in a Standing Rock fashion as they protest the Pilgrim Pipeline Holdings, 178 miles underground carrying 200,000 barrels of crude Bakken shale, running from NY through NJ, which "poses a risk of widespread safety hazards and pollution, with the possibility for a spill that could taint drinking water."
As with Standing Rock, "sacred sites could be violated" and, as with Chief Arvol at Standing Rock, the Ramapoughs have passed along a prophecy that the "highlands could face a grave threat to its land and water."  Standing Rock is certainly "everywhere" in a manner of speaking as the protests there inspired those at Split Rock Sweetwater Prayer Camp, where teepees "serve as a popular hub for prayer."  Other activists have been attracted to the site as the Ramapoughs have to deal with neighbors who object to their gatherings and teepees, not to mention the racist smear campaign by Donald Trump against the tribe in the 1990's.
Other such Standing Rocks have sprung up throughout the US, but not yet with the level of violence and ruinous consequences that Chief Arvol's son, Cody Looking Horse describes at Standing Rock: "They dug up our ancestors' burial grounds…got dogs to run on; …water protectors and 13 people were badly bitten."   The violence against the water protectors has resulted in their arrests, prison terms, and serious injury, including partial blindness for one woman and the near loss of a limb for another.
World Peace message of Chief Arvol   (Indian Country Today, June 17, 2017)
"At the age of 12 years old I was given the Sacred Chanupa, the ceremonial pipe of the Sioux and the ceremony in which it is used.  My journey as a holy person has led to many visions.  World Peace and Prayer Day is a vision of healing for all life that was initiated 22 years ago today."
Protecting the Sacred:  from Uplift Weekly, October, 2016
"As Keeper of the Spirit Bundle of my people, we as The Buffalo People—Pte Oyate, have been able to keep our ceremonies and way of life for 19 generations intact, which every generation is 100 years.  The Bundle has been with us for over 2,000 years, which has guided us through massacres and hard times. …For this oil company to destroy … Burial mounds and Sacred sites, is a violation of the UN Declaration on Rights of Indigenous Peoples.
What we are being faced with is a dark spirit.  All life cannot afford to allow the same mistakes to be made any longer.  Look what is happening to the four directions in the contamination of Mni Wic'oni, the water of life.  If we do not actively stand up as leaders and do Creator's work in uniting our concerns, it will continue to be a domino effect that our Ancestors have warned about in the Prophecies."
Chief Arvol Looking Horse Speaks on Standing Rock in Buffalo, NY: Photo Essay/Global Justice Ecology Project
"This dark spirit was manifested at Standing Rock. …DAPL moved onto the location of all the burial grounds where millions of people have lived over the generations.  The women ran to the site first and others came also to stop them. …On November 20th, when the water protectors were trying to clear the road, the police attacked the camp with concussion grenades, fire hoses, rubber bullets…and fired fifteen canisters of tear gas in the first two minutes. … All the people want is clean water.  The People in Bismarck, which is 92% white, said they didn't want the pipeline so it was rerouted into Indian land.  They didn't have to protest."
Standing Rock Comes to Hardwick, Massachusetts
Chiefs Arvol Looking Horse joins Dwaine Perry, Iron Bear, together with Two Clouds, Beatrice Kwenase Jackson, Paula Horne Mullen, Gentle Hawk from the Worcester Intertribal Indian Council, Episcopal Bishop Fisher of Western Massachusetts and many others peace groups and water protectors will gather at Agape on October 7   to create an energy shift to heal our Mother Earth, by listening to her defender, the carrier of the Sacred White Buffalo Calf Bundle:
Each of us is put here in this time and place to personally decide the future for humankind.  Did you think the Creator would create unnecessary people in a time of such terrible danger?  Know that you, yourself, are essential to this world.  Understand both the blessing and the burden of that.  You, yourself, are desperately needed to save the soul of this world.  Did you think you were put here for something less? 
 Reprinted from "The Heart of Mother Earth" (Catholic Worker journal, January-February, 2017)