Hope Found at Agape by Celia Dolan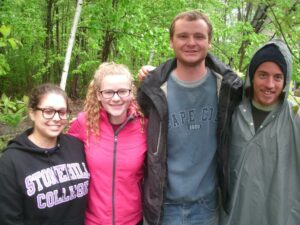 In mid-May, I embarked on a journey with five fellow Stonehill College students for a HOPE service trip (Honoring our neighbor, Organizing for justice, Practicing peace, Encountering God).  We drove about two hours from Easton to Hardwick, unsure of what we would find at our destination.
Upon our arrival, we found a welcoming community.  As we woke up early for prayer, we found serenity and peace.  Playing music together, we found freedom in artistic expression.  When we joined together for meals, we found intellectual conversation which was made possible without the distraction of technology.
What did we find while working?  Yes, we found ticks, poison ivy, piles of manure, and strenuous activity.  But we also found satisfaction through hard work; we found that our hands labor in harmony with the Earth to nourish ourselves and to nourish nature in return.  With difficult discussions, such as those surrounding Standing Rock, we found hope that mindful people gather in communities like Agape.  Each of these things we discovered in our own ways, but we were bound by common understanding, and so, in our unique journeys, we grew closer as a group.
Yet, our return home would be an individual journey.  Each of us had to decide what we would do with all that we had learned.  In addition to contemplating my role in spreading the ethos of love and calm that Agape showed me, I was taken aback by another aspect of the life to which I returned.  It was the life that I had always known, yet it felt different somehow.
When I first went home, I was struck by how noisy the world seemed to me.  Thirty-four text messages and nearly 100 emails welcomed me.  I returned to the sounds of cars on the street (many with music blasting), radio in my kitchen, and television in my living room.  After embracing silence for five days, I felt rather overwhelmed, and I found myself recalling a book that I had cherished many years ago.   Brian's Return, one book of Brian's Saga by Gary Paulsen, depicts Brian, being reclusive by nature, distraught by the loudness of everyday life in the city and the emptiness of superficial relationships.  Many people recognize the contradicting efforts of finding one's self in silence and nature, and ceaselessly pursuing "success" in today's chaotic world.
One such person is a Native American, Rhonda Redbird, who stated:  "Returning to source is stillness, which is the way of nature.  Each separate being in the universe returns to the common source for serenity.  To replenish the soul.  Which enables them to grow and flourish."  Agape fully understands this important connection between silence, nature, and people.
Brian also learned this connection while stranded in the woods.  He made an effort to uncover this connection at home, visiting a park as often as he could, "stopping under the trees, closing his eyes, remembering the woods, the wind, the movement of leaves, the world without the incessant noise."
I, also, began to take refuge in nature, even more than I had previously, after enjoying the serenity at Agape.  I wanted to continue the ritual of quiet contemplation.  I wanted to connect with nature and other people, which was only possible if I first learned to connect with myself in silence.
However, as the days pass, I find it more and more difficult.  I see myself slowly slipping back into the old routine of regularly checking my phone to respond to texts, watching TV at night, listening to music rather than enjoying quiet.  I try to resist the consumerist, selfish pull of society in my own small ways.
Working at a farm on campus has helped with this effort.  I also began my own garden at home, using many techniques that I learned at Agape.  In the morning, I cherish the wake-up call of bird song, and in the evening, I embrace crickets' lullabies.  Although it is challenging to bring myself back to the atmosphere of Agape while I am at home, the memories of and understanding provided by this irreplaceable community will remain with me forever.
While I am not sure if my Stonehill friends feel as I do (though many have stated that they miss the community and wish to retreat from the incessant demands of society) I sense that we each discovered something important for ourselves during our time away.  As for me, I realized that I arrived, broken, in ways that I didn't know I was, and I returned home, healed, in ways that I didn't know I needed.
I believe it is fitting that our trip to Agape began and ended with rain.  Rain cleanses and brings about new life.  As we drove to Hardwick, we were cleansed of the hectic world we would leave behind – the only world that many of us had known up to that point in our lives.  The five days spent at Agape planted a seed of love and compassion in us that was watered by the last day's rain.  It began to grow when we left the community, and continues to grow each day.  Now, we must nourish that seed so it will produce a fruit to spread Agape's message of hope and love.  And there is no sweeter fruit to share than the hopeful one sown by the Agape Community.
Celia Dolan is a "rising" sophomore at Stonehill College whose contributions to the Stonehill Rural Immersion were invaluable.