Trump's Inaugural Witness with Answer Coalition and The Women's March in Washington DC January 20-21, 2017
Our first steps towards the Inaugural Protests were ones of staring into the unknown at

5am

, departing from the home of friends in Cheverly, MD, taking a subway to the Naval Memorial, to the day of Donald Trump's abomination.  It is still difficult to write or say these words.  Jane Fonda will not use Trump's name, choosing instead, to call him "Groper in Chief." We had hoped to reach what we thought was the main protest area, instructed to be there by the Answer Coalition website, by

6 am

.  When we arrived, after walking the dark streets of DC leading to the Orange line, we had little idea, in our sleepy haze, what we were in for. Steve and Nancy James, Agape co-founders, who have spent most of their lives in Haiti, were with us, and we all felt the tugs of the past, remembering our foursome and the then thousands-plus-some of the George Bush years and the massive protests against the invasion of Iraq which we participated in together. By the time we arrived, getting past crowded security lines and metal detectors, we milled around with lots of young people, holding our banner, "Love Trumps Hate," and waiting for the program to begin.  And begin it did, with the full intensity of an all-day protest marathon, with riveting speakers, all people of color except for the main presenter. One talk after another lit a fire in the soul, with mothers of murdered children, immigrant testimonies–  moving, soaring rhetoric, punctuated by chants of "The People United, Shall Never Be Divided" and "Not My President" among others a bit more fiery and, often obscene, including the hip-hop, rap, repeated over and over of F—k Trump.  We got through this chant, as the crowd seemed so earnest, even some of the 60 and 70 year olds among us. The four of us elder resister-peacemakers, moved among the younger people, talking, listening, waiting for the inaugural speech and then, eventually, the motorcade and parade.  During my meanderings, I came across four young people, late-high school to early-college age, wearing the signature red, Trump hat, and looking out of place, which they were, and yet youthfully daring: "This is our day to see what the lay of the land is on the other side" was the uncomfortable posture and awkward-looking around they presented. I quickly queried them:  "What are you doing in this anti-Trump protest group, with your Trump hats on?"  The thought also crossed my mind, as innocent as they looked, that they could be "plants," but it wouldn't take a Trump hat on to do that, and probably better if undercover to do just the opposite.  Who knows? No, they were just kids with half-smiles, semi-serious facial expressions.  One of the young men, who seemed like the spokesperson, gave me a long rendition of why he was with us and not with them. The presentation seemed like just that, a presentation.  He said that we anti-Trump folks misunderstood; that Trump really had the country in mind; that it is time for a change; that the country would be booted up again with and outsider.  I said as gently as I could:  "Sounds a bit canned to me.  Did you memorize this?"  He shrugged, not really clear how to respond. As tired and exasperated as I was, I said very little, just leaned in with my grandmotherly solicitude and asked: "Do you really believe, in the bottom of your heart, all that you said?"  He faltered, then hemmed and hawed, until I said: "It's okay for you to feel so passionately about something, but, really, isn't it good to get the other side too?"  All four of them seemed so innocent, saying that's why they came, but they couldn't get anyone to talk with them.  The most astonishing thing of all is that they had no complaints that we in the other camp were mean or rude, just that people were passing them by, not saying anything.  This, parenthetically, was the tenor for the entire time we were there in a charged atmosphere of anticipation for the moment of The Groper in Chief's ascendancy.  Except for after the inaugural, when Trump adults started streaming by.  That was a test for the nonviolent soul.  I did manage to get out a few "Shames" as the adults walked by.
Throughout the day, young people assisted us elders up and down some pretty steep concrete steps so that we could perch awkwardly 8 feet off the ground, looking out toward the street where limos were passing regularly.  There was a grim recognition among us, that one of the limos, "might be him."  No giddiness, carnival or festival atmosphere.  Everyone there seemed to grasp the gravity of the situation, and everyone meant mostly young people, looking, for the most part, subdued and serious. I met an impeccably dressed young man and his companion, both attractive and friendly.  I introduced myself and then asked why they were at the protest sight, finding out that the young man came from England, and the woman from Sweden.  When I asked, were they on holiday, or did they come for this, they replied: "We came for this."  Further inquiry resulted in their saying: "We're scared.  Trump's scary.  He is like a maniac.  All the young people in Europe are depressed." Then back to the stage, and the ongoing Answer commentary, with an Answer lawyer arriving to say that we must redouble our efforts to find the truth about why, in her words: "tens of thousands of people are being denied entry to this protest."  Apparently, people were being stopped at check-points.  Next, another young person said: "Windows are being smashed."  "There is tear gas being thrown," and "the police are out in riot gear."  Somehow, our group at the Naval Memorial felt like a protective enclosure, with people relating to the camaraderie of the moment, lots of smiles and nods, a sense of solidarity.  A distinct sense of family, of a tribal closeness prevailed, reminding me of Mark's gospel and Jesus commenting on the real brothers and sisters are those who follow the will of God.  Although no religious language was used, I felt the sense of Christ's presence.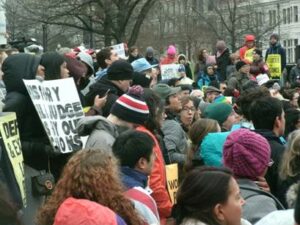 As our numbers began to grow, so did our anticipation.  We heard over the loud speakers that Trump was about to be sworn in, and then heard the voices of ministers and people of God, heaping blessings on the new president.  Billy Graham Jr. said that rain (which was steady throughout the day), was a sign of God's blessing.  Catholic Cardinal Dolan was a disgrace, by any standards of Catholic Social teaching, giving a booming paean of praise for the new regime.  I felt betrayal, anger, looked behind me to find Brayton, and saw that he and Steve James were on their knees, holding their prayer-ropes. Anguish.  Pure anguish.  Embarrassment.  Pain.  Humiliation. Prayer was the right posture, prayer in the midst of blasphemy and callous disregard, especially by a Catholic Cardinal, of the blasphemous matter of blessing the deceit, the lies, the sexual assault, this obviously disturbed man who is now holds the fate of the planet in his hate-filled heart. Once we knew the oath was over, we chanted and shouted, "No, No, No."  "Not my President" and a variety of other what we hoped were deafening cheers, as Trump ascended to give his address.  The noise we were making reached a crescendo as we screeched and screamed as loud as we could, as did the thousands of other protestors at other sites throughout Pennsylvania Avenue, drowning out, we hoped, Trump's acceptance speech. We learned afterwards that we were quite successful. My preference would have been to interrupt the speech itself, if I had a place among the inaugural guests, and I understand someone did interrupt his oath.  I thought that someone should kneel in front of his motorcade, or to do a civilly disobedient act of some kind, but that was not in the cards.  So I lifted my voice in protest, to stop the lies.  It was simultaneously exhilarating and exhausting.  We knew that Trump's limo would be passing in a few hours.  The next set of speakers and musicians geared up for the thousand or more of us, holding our signs and standing shoulder to shoulder, gathering close in as the limo passed, chanting, shouting, praying (Brayton and Steve, again on their knees).  It felt like the absolute bottom of despair.  We dispersed somewhat glum, Mission Accomplished. Our moment was over.  Sadness prevailed (and many signs with the word "SAD") but also a galvanized sense of what we were about, and the fact that we knew that the journey into our risk-taking had just begun, and that this oath would call us to more extraordinary actions in the future.  I was moved by the speakers in ways that were unlike anything I had experienced at rallies in the past: a Native-American woman from Standing Rock; Mothers of murdered children; teachers from Harlem, commenting on poverty and the hunger of their children; climate change activists and on and on, including breathtaking live musical interludes.
Day Two: Women's March Day
Exhausted from the previous day's extraordinary events, from chanting, praying and shouting, we made our way to the Orange Line and to L'Enfant stop towards 3rd and 4th Streets on Independence, only to be totally blown away by the numbers of people on the trains and in the subways—packed to the gills…no room to move. Nevertheless, a festive spirit prevailed as young mingled with old, some people wept, including Nancy James, my dear friend of 40 years.  We were literally shoulder to shoulder with people in the subway, a bit claustrophobic, but a sense of well-being wrapped flooded us today as it did yesterday, but now more intensely.  We were encircled by a sea of humanity and good will, pink pussy cat ears everywhere, people chanting as we headed to the exits: "The People United, Shall Never be Divided" and "Not My President." I proudly wore my "Not My President" button in the middle of my black beret, attracting picture-takers and favorable nods.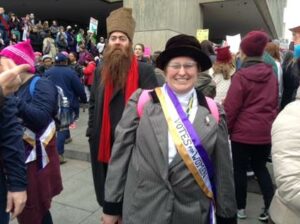 We were swept into this wave of people and signs, onto the plaza, near the speakers' area, but could get nowhere near the main rally site, so we settled for holding our banner: "Love Trumps Hate," once again, wherever we could.  Crowd after crowd of people emerged, entire families, babies in carriages with pink "pussy" ears, signs, clever and irreverent, one simply heralding: "Alice Paul" the inspiration behind the suffragist movement in the 1900's.  Several women my age were dressed in the suffragette apparel of that era.  It was thrilling. We quickly realized that we were so many that we would never get near the speakers, that there were far too few porta-potties for all of these people, we were estimating in the hundreds of thousands, (which proved to be true).  Even more compelling was the realization, after about three hours, that there would not be a march, because, as one marcher told us: "There is nowhere to march.  People are jammed together along the entire march route." After assessing the situation, and hearing the grumbling of the crowd, people feeling exhausted and starting to be irritated by the speaking going over the one pm ending, I encouraged a movement in the direction of going off on our own to the White House.  There was no other plan.  So, some of us, turned around, chanting, "We want to march.  We have to go."  It was a great moment, as wave after wave of people followed each other, and the march took on a life of its own, that the planners could never have anticipated. We had loud speakers from the main stage with Gloria Steinem, Michael Moore and others speaking, and a gigantic screen, but, again, no ability really to hear or see, with the swelling of people everywhere. We took pictures of each other, and the prevailing spirit was one of resistance, marked by many signs which said just that: Resist.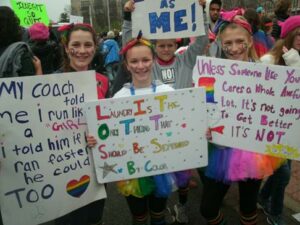 One of the most touching moments for me was to see an African-American mother with her children, proudly carrying their homemade signs.  Then there were the three young school-aged girls with their women relatives, proudly displaying signs they had made reading:   Laundry is the Only Thing that Should be Separated by Color; Unless Someone Like You Cares an Awful Lot: It's not Going to Get Better, It's Not; My Coach told me I run like a girl.  I told him, if he ran faster, he could too. Brayton kept commenting on the numbers of women, far outnumbering the men.  The police we queried were truly flabbergasted at the turn-out and the numbers.  Everything proceeded peacefully, with no incidents of violence whatsoever and no sign of Trump people either. Originally, I had some reservations about the gathering as I had read the New York Times commentary on women who were anti-abortion or pro-life feeling frozen out and unwelcome with the reproductive rights agenda.  I also had a hard time focusing on the goals of the march, but I held all of these reservations in abeyance as I felt the historic significance of this time, remembering Dorothy Day, the suffragettes, the power of women looking for their voices, divergent, strong, and now, amassing energy and resolve to resist this catastrophic moment in American history. I was not going to freeze out my sisters now.  The pain of centuries of hurt, exclusion, patriarchy is too real for me.  I feel it.  I can live with our mutual searching to undo the years of male dominance, of men determining our sexual lives, denigrating and humiliating our very beings.  I embrace the dialogue, the love required to heal our wounded selves.  Sister solidarity means taking the painful journey of clashing on issues, while keeping in the   historic moment of this resistance and all that it means in the struggle for equality. I am in sympathy with the women who saw this moment as a resistance to the crude, misogynist remarks of Donald Trump revealed on the tapes during the campaign.  Collective outcries, outrage and defiance marked the signs and the moment.  Women were having their say. I chose not to be outside of this circle as did many other pro-life feminists I imagine. I went with the spirit of Jesus that we brought to the gathering as co-founders of Agape, knowing the realities of the divide that exists over abortion, pro-choice and reproductive rights, but also the solidarity with the goals of standing somewhere and making a statement: "Not Our President." Committed to nonviolence as we all are, that equation was not in full display anywhere in either rally, and I didn't hear the word used once.  So this was a disappointment.  It seems to me that with the passing of Philip and Daniel Berrigan, Howard Zinn, and other giants of the peace movement, the voices of nonviolence have been muted. Those of us who have carried the mantle for a long time, are getting older, and cannot, sustain the momentum and keep the fire stoked.  So, this is where trust comes in.  Eleanor Maclellan, a woman religious and dear friend always tells us that we have done our work, we will continue to do it, and what we have to do is to trust.  God takes a long time, El often says.  And we know that we cannot count on results. The big question now, of course is:  "Now What?"  I remember Phil Berrigan calling for a national strike just before he died, in response to the invasion of Iraq.  Something of this order, of this scale needs to happen.  The juggernaut is too huge, the lies too bold, the fascist nature of the propaganda machine too slick, to not move in the direction of non-cooperation, taking risks, walking in the footsteps of Jesus, and, as we hear from Dan Berrigan: Stand Somewhere.