Listening to Muslim Voices in an Election Year: Agape Francis Day, 2016
This Francis Day was totally unique in that 200 people gathered with Muslim brothers and sisters from the region to listen to the suffering and struggle of Muslim people from Syria, Iraq, Egypt, and the United States in this dangerous, Islamophobic election year climate.
The following are excerpts from the talks of that day, beginning with the call to prayer by Imam Abdul-Baki, from Turkey and the Islamic Center of Western MA, translation by Dr. Mohammad Bajwah, an internist in a private practice affiliated with Holyoke Medical Center and one of the original founders of the Islamic Society who served four years as president.
In the Name of God, Lord of all the worlds, Master of the Day of Justice, You alone we ask for help.  Guide us, not in the ways of those who went astray.  We are in distress, calling God.  God is great.  I testify, God is great.  There is no one worthy of worship except God.  Come to prayer, Come to success and peace.  God is the only one we worship.
[panel style="panel-default"] [panel-header]
[panel style="panel-primary"] [panel-header]
In the Name of God the Most Compassionate the Most Merciful
[/panel-header]
[panel-content]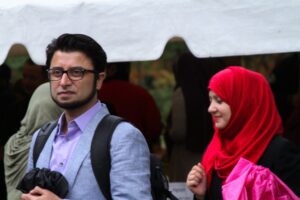 Kashif Syed was born and brought up in Pakistan in a religious family, immigrated to the United States in 2000 and to Boston 12 years ago where he serves as a volunteer teacher of Islam 101 in Cambridge area for the last 6 years
May the peace and blessings be upon His prophets and Messengers and all those who follow them in their blessed pathsIslam has a wholesome concept of Morality from the most comprehensive verse in Quran:
Verily God commands justice and good conduct and giving to relatives and forbids immorality and bad conduct and oppression. He admonishes you, that you may take heed. [16:90]
God, the Almighty, commands us to do good and forbids us evil. God, our Lord, is the source of all Mercy and is the Most Merciful. He does not command us to do evil. Only Satan commands people to do evil. Tied to that is the concept of repelling evil with good in Chapter 41 verse 34:
And not equal are the good deed and the bad. Repel [evil] by that [deed] which is better; and thereupon the one whom between you and him is enmity [will become] as though he was a devoted friend. [41:34]
To see what kind of people God love we need to look at the verse 132 in Chapter 3:
And hasten to forgiveness from your Lord and a garden as wide as the heavens and earth, prepared for the righteous. Who are charitable during ease and hardship and who restrain anger and who forgive the people – and God loves the doers of good; [3:132]
Hence, it is clear God loves peaceful, compassionate and forgiving people. We should all exert ourselves to be people of peace, compassion and forgiveness.
[/panel-content] [/panel]
[panel style="panel-default"] [panel-header]
Nadia Alawa, founder of Nu Day Syria,
recipient of the Inaugural Humanitarian Award, James Foley Legacy Foundation
[/panel-header]
[panel-content]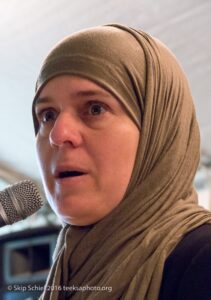 As we sit in the lit, unheated tent set up for an event in chilly temperatures Saturday, this is more than some Syrian children have for shelter trying to survive in a war zone.   The mother of eight home-schooled children, the oldest of whom is 23, I became the founder and CEO of Nu Day Syria through New England, empowering aid with dignity to Syria and Turkey.   I try to be a voice of optimism,  as we look at why there is this humanitarian crisis.
I woke up during the Arab Spring Syria's opposition to President Assad in March 2011.
Syria, a country of diverse people, precipitated attempts for opinions to be expressed nonviolently.  Women were resisting, holding signs, and were on social media.   In 2007, soldiers who wouldn't kill were defecting from the army.  We still have many people in Syria who believe in a nonviolent revolution.
Then, came the government crack-down, and the arrest and torture of a thirteen year old who, with other young people, used graffiti as an outlet for resistance, with slogans:  "We want change," and "It's your turn, doctor," (referring to Assad's degree in medicine).  The young boys were taken into custody and tortured, their relatives told: "Go home.  You won't see these boys again."
This was the beginning of my own journey as I asked the question: "How can I help the children.  As a part-Syrian woman, my husband is totally Syrian, and our kids three-fourths.   I a second story that broke me down.
After the "sin" of "smuggling milk into the town of Dariya, Hamza Al-Khateeb another thirteen year old was killed after ten days of torture, refusing to bow down to a picture of Assad.  Who thought the revolutions would get started by schoolboys detained for sneaking baby milk to families?  His body was left on his family's doorstep–severely bruised, burned, with three gunshot wounds and severed genitals.  After ten days of Hamza's torture, he became a symbol of courage for me and for others.
We live in a comfortable situation.  We don't know what we would do in a similar situation.  Some of us may feel, for example: I'm not going to risk my life for anyone, especially as I have my own children to protect.  I decided that these children need us.  We can do something for children in Syria.  They are our responsibility.
I became a free-lance activist, collecting winter coats and other supplies with the help of my biggest support, my husband.  NuDay was started with lots of volunteers for the 8 million people who had lost homes and  five million refugees.  My mission is a race against time.  I became involved in orphan sponsorship programs as Syria was being annihilated. Even only $50 means survival, survival, survival.
Because there has been no school, 10-12 year olds cannot read and write, so women who have lost their homes continue to be teachers.  We are involved in a slowly moving project of stuffed animals, soccer balls, always something, one person at a time.  Our network has grown.  Requests for help have poured in.  We have raised more than $1 million to help pay for goats smuggled into a besieged area near Damascus to produce milk for babies.  NuDay has found housing and work for Syrian refugee widows in Turkey and opened a school for refugee children there.
Be catalysts for change I realized, my children and their children are the same.  We have all these children.  That is why I became a freelance activist.
NuDay's motto is: "One person at a time, one humanity closer."
Support NuDay Syria: WWW.NuDaySyria.net (PO Box 4521, Windham, NH 03087)
[/panel-content] [/panel]
[panel style="panel-primary"] [panel-header]
Tahirah Amatul-Wadud, a Chicopee-based attorney,
and member of The Islamic Center of Western, MA works for religious rights and treatment of Muslim women.
[/panel-header] [panel-content]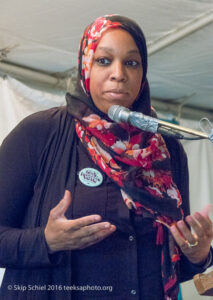 Religious persecution of Muslims is taking place in the United States, evidenced by the increase in hate crimes which include the deaths of Muslims and those perceived to be Muslim.  Almost anyone who is God-fearing and politically and socially responsible would feel outrage at this.  A program is needed as an idea starts to grow.  A divorced mother of seven kids, I was minding my own business, very busy and never considered myself an activist
With the Muslim Community under attack, I started to pursue a response and to see if there was interest in helping in the fight.  We need to examine this election.  No candidate has had something more shocking being said one day than the day before, the "new normal" in the media.  A moral panic cycle is raising money by amplifying the crimes of Muslims and downplaying the crimes of others.  The question has to be asked:  "Who benefits from the hysteria that accompanies this moral panic?"  There is no general narrative in the culture that informs people on the nature of Islamophobia.
The media disproportionately report on crimes by Muslims as "terror" because we have been brain washed into believing that the only people who can exact terror in this country, have Muslim-sounding names.  However, if a man murders 20 elementary school students in their own school building (Sandy Hook Elementary School) that is terror too.  If a man kills a woman or a doctor at a reproductive clinic where women are receiving medical care–that too is terror.  We don't need to wait for word of race or religion to know this.
I am 45 years old, and I have always known about prejudice.  As an African-American Muslim woman, I must pay attention to the ebbs and flows of the election year which brings in fears, including in 2007, when the Muslim slur began with calling Barack Hussein Obama a Muslim.  McCain supposedly calmed the accusation, but for Muslims, it was yet another slur when McCain said: "I know him.  I know he's not Muslim."
Now, in 2016, anything goes.  We need to know what is happening because many instances of Islamophobia are being under-reported.  In North Carolina, near Chapel Hill University, three students, two of them who wore hijabs, were killed in an under-reported murder—bright, lovely girls and after the killings, a 12 hour media blackout.  In upstate New  York, in a rural subdivision, threats to Muslims were uncovered by the FBI on line: "Annihilate them in the name of God."
So, in times of crisis, friendships are formed as with what is happening here at Agape.  The story of the Sultan and St. Francis, which we heard today, was an early charter of respect and protection offered by the Sultan of Egypt to St. Francis, a celebration and embrace of a Christian and a Muslim.
Minding our own business does not offer a solution.  We need a resolution, a call to action.  What would it look like?  We need to reach out to any school district that will be welcoming resettled families with children.  We need to bring in youth, children and grandchildren on the ground floor, school systems, concerned citizen support with story times, games, puzzles.  We need to ask questions like:  "What does a Muslim believe?"  "What are Muslims like?"
We must empower our children to help and to protect threatened children in their classes.  Critical thinking is needed to resolve Islamophobia, so that we are never subjected to this again.  Use your voice as a citizen or selected official to put into place programs that demonstrate compassion so that students and their classmates see what compassion looks like and students enjoy what compassion feels like.  I guarantee that this is something that they will never forget.[/panel-content]
[/panel]
[panel style="panel-default"] [panel-header]
Dr. Hisham Moharram, of Egyptian, Muslim background,
founder of Good Tree Farm in NJ, faith-based journey into local food security
[/panel-header] [panel-content]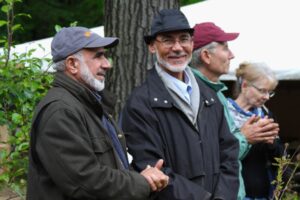 The most important thing to draw on is the things we are experiencing today and the impact we have on each other's lives, realities besides reactions and emotions, and all the results of a system that as human beings we have accepted.  This system is led by a small group hell-bent on exploiting everyone else.
I was born in Egypt, and spent time in Kuwait, the US, England and China.  In each country, we are talking about a group the politically connected who run a system with in-built injustices which perpetuate it.  I like to use a table analogy for this relationship.  We are the legs of the table that they are sitting at.  We support the table.  All we need is to stand up.  When you leave today, go back to your communities and see what the problems are that we want to solve and who our neighbors are.  They could be in a mosque across the street, or in a Hindu Temple.  Find the congregation that shares your concerns and work with them.  They have human and financial resources that you may not have; and you have what they don't have.
Working together, you complete each other and are far more potent in changing politics, changing local realities, social and economic injustice.  It's one thing to experience trauma, but the worst thing you can do is to go through trauma and not react to it.  Ahmad's poet friend needs to change the sad realities he's gone through, total helplessness and dying inside; otherwise, he will crawl into his house like a shell.  He needs to get outside to live again.
Regardless if we get the change we want we need to keep on living with hope, to endure.  I am inviting you to encourage and to be in collaboration with strategic partners.   
After a time in professional research, I had a moral and ethical crisis, realizing that whether Muslim, Catholic or Hindu, we can never become anything until we personally choose for ourselves.  I chose agriculture and environmental stewardship through sustainable organic farming, a faith-based journey into local food security, doing no harm to people and planet.
[/panel-content] [/panel]
[panel style="panel-primary"] [panel-header]
Ahmad Al-Hadidi at Francis Day, 2016 
Physician, poet, Masters Degrees in Public Health and Peace Studies, worked with children suffering from war related injuries and in Uganda on HIV/AIDS
[/panel-header]
[panel-content]I want to talk about national identities.  I was born in Mosul, Iraq, and my family is in Mosul.  I received a degree in Public Health from the University of Mosul in 2004, but I live in Boston, which I consider my hometown as I do Mosul.  Uganda is my country and my national identity, an identity with all people all countries, all religions and faiths.  I lived with a Jewish family in Boston. Now, I live in Baltimore, which is a very authentic city, an international city.  I have transcended identities.
In 2013, when I became a citizen of the United States, the judge led us in the oath of allegiance and said:  "You come here with your diverse backgrounds and different religions.  You will always be welcome in your home, no matter where you go."  This really moved me.
I visited my family in Mosul, Iraq for three months and the idea of being welcomed back home stuck in my mind.  The Judge said:  "Don't consider yourself second class."  Back from Mosul, then form Uganda, in 2014, even before I arrived at JFK, I was pulled from the line by an interrogator in Turkey,  apparently in American customs.
"Why are you pulling me out?"  He asked if I had another passport.  After I told him my American passport, he replied: "I can't let you through customs in the US."  Again, I asked: "Why?  I have done nothing wrong."  He said: "I will let you know later."  I felt a big contrast from what the Judge had told me:"Don't consider yourself second class.  You will always be welcome."
We have laws and a wonderful Constitution, but on the ground, it is a different story.
Who's For the Voiceless? من لهؤلاء ؟

by Kareem Husein Ashur

The eternal flame burning in vain النار وهي تحترق

The flowing wind giving birth yet unborn الرياح التي تحمِل ولم يحملها أحد

The Heavy clouds Thirsty forever  الغيوم الهاطلة وعطشها الابدي

The trees longing for another place الأشجار التائقة للمسير

The sun with eyes exhausted in sheer shine الشمس وقد أتعب عينيها السطوع

The moon accused of utter exploitation  القمر المتهم بالسرقة

The seeing eyes that do not yet see    العيون التي تنظر ولا ترى

The dead tired of breathing their own dust    الجثث التي أتعبها تنفس التراب

The birds migrating in spaces of captivity الطيور المهاجرة في أقفاصها

The fingers intimidated by coded fingertips الأصابع المثقلة ببصمات مشفرة

The letters that have never arrived الرسائل التي لم تصل

The labyrinth that confused none but itself التيه الذي لم يته فيه أحد فتاه في نفسه

Who's for the voiceless?

Translated by Ahmad Hadidi
[/panel-content] [/panel]