Review: Nothing Is Impossible: Stories from the Life of a Catholic Worker by Scott Schaeffer-Duffy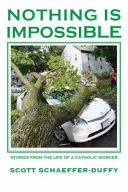 I asked an intern who had lived in Catholic Workers out West what he liked about the Worker.  He responded thoughtfully:  "It's just so comprehensive."  The lives of Catholic Workers, Scott and Claire Schaeffer-Duffy are precisely that–comprehensive.  They have cared much and have lived their beliefs across so many disciplines and walks of life, that now, their powerful story is entertainingly captured in Scott's recent memoir Nothing is Impossible.
Like the Catholic Worker itself, Scott's remembrances are comprehensive–great stories of his life, written in an easy and natural memoir style.  Knowing Scott, I am not surprised that his best memories are, of course, the hilarious punch lines that make his book a rapid page turner.
Claire and Scott where early bloomers: Catholic Worker potential right out of college.  Scott tried his hand with the Capuchins, known for their "poverty."  The seminary's location  in upper-class Garrison New York was a Capuchin version of voluntary poverty not poor enough for Scott.  Claire graduated from University of Virginia and headed for the radical anarchist side of Washington D.C. where she met Scott, and the story of their lives unfolds in all of its intensity and dedication.
Their vision led them to found the St Francis/St Therese Catholic Worker House, in Worcester, MA, a sign of a new generation of Catholic Workers who did not come primarily from the ranks of the young singles, but also from young marrieds with children.  Their radical Catholic Pacifism as a young zealous couple was lived out with four kids in the middle of inner city poverty.
They took in the homeless from the neighborhood, with their children living downstairs in the same house.  Until meeting Scott and Claire, I had not seen so close up this kind of courage and activism mixed together with "family life".  They opened their hearts and doors to the unpredictable homeless, the angry and wounded, the drug dependent, but also to totally hilarious comedy.  One such "disoriented" and disgruntled homeless young man warned Claire upon leaving:  "When I am elected president you'll be sorry!" Moral advice seemed always in strong supply.  Another vignette:  Roger White "guest" at St Benedict's Catholic Worker in DC observed Scott killing cockroaches and admonished:  "It says in the Bible 'thou shalt not kill' those damned things!"
My wife Suzanne have been friends with this family of six, especially the four siblings Justin, Grace, Patrick and Aiden since we arrived in Hardwick, over 28 years ago.   Our daughter Teresa was especially close with Justin and Grace growing up and we have fond memories of their shared childhoods.
In my estimation, Claire and Scott's best Christian activist achievements have been, like that of other peace activist parents, their children.  Predictably then, Scott dedicates two full chapters to memories of his children growing up.  This husband and wife were full time, at-home, Mom and Dad, peace activists doing periodic jail time yet, always oriented to the needs of the poor, while offering hospitality at their "Ma and Pa CW Shop."   Whew!  I trust there was some spare time to sleep.
Among Scott's narrative details all of the many graces God freely bestowed, his greatest gift is Claire.  To embark on such a potentially risky and un-bankable life of precariousness and to bring your marriage along, one must first have a partner sent by Jesus himself.  Otherwise, how could anyone make as unpredictable a life as theirs work?   Such a relationship is "given."
One of my earliest memories of Claire demonstrates this amazing grace.  Suzanne and I were invited to the Framingham Prison for Women in Massachusetts to present a Good Friday prayer service for the women.  Suzanne had done a "short stint" there for an action at Draper Labs in opposition to nuclear weapons.  On our way to the prison chapel, we spotted, Claire returning from dinner with the other inmates.  She too, was doing time for a nuclear weapons protest.  But more amazing was that Claire was seven months pregnant with Justin, her first!
Scott too, has spent some all-expense paid "time" in various prisons around the northeast.  You can't simply "try" to have this kind of "compatible marriage" so full of "terrible unknowns" without Divine Providence.  This is an inspiring narrative of a family of six who are a gift from our non-violent God, through whose lives, we are told: life is good and meant to be lived in gospel love and joy!
When I finished Scott's book, I thought to myself:  "So much life lived; so much more to go." What this memoir offers can be reduced to one luminous message—a belief in something true and precious that has survived and lives.  Nothing is Impossible is funny, warm hearted, prophetic, impossible and, of course, miraculous—a good read that delights as it makes one's conscience squirm.  Order Nothing is Impossible: Scott Schaeffer-Duffy–[email protected]                     
Reviewed by Brayton Shanley