Community News – Servant Song v25n2
News Notes
Cornelia Sullivan resigned from 20 years of service on Agape's Mission Council.  We will always hold her as member for life, as she has dedicated nearly 40 years to Agape, from child-care for Teresa when we were building Francis House, to her support and lively activism against the Boston University Bio-labs, as a member of Pax Christi, Boston.  Peacemaker par excellence.  Thank-you Cornelia.
Chris Nauman, Agape troubadour for many years, will be moving to the west coast, hosting an Agape benefit concert in Arlington, MA before he leaves, probably in February, 2017. Check the website for details or call Agape.
Agape's Mission Council Members maintain governance of the community, participate in and plan events.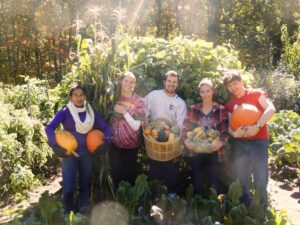 Bob Wegener, architect; Skip Schiel, photo-journalist; Teresa Wheeler, Worcester peacemaker;  El Maclellan, RSCJ, Omar outreach; Hazel Dardano, work-day animator; Edgar Hayes and Ann Rader, Freedom Farm; Samantha Lueschner, former intern, social worker; Emily Jendzyck and Bennett Comerford, married at Agape, expecting first child in January; Kate Carew, educator, Worcester; Alicen Roberts and Rachel Ravina, Agape musicians.
We welcome to the Mission Council–Mary Bennett, Worcester, MA pictured  here with Ann Rader