Agape Welcomes New Mission Council Members
After a year of discernment and participating in Mission Council meetings, Agape welcomes 7 new Mission Council members now committed to our advisory board, which meets four times per year and has the important task of making decisions about Agape's goals, vision and future, as well as the planning of Francis Day. Thank you, Kate, Alicen, Rachel, Edgar, Ann, Emily and Sam! Not pictured: Emily and Sam

Kate, Alicen, Rachel, Edgar and Ann: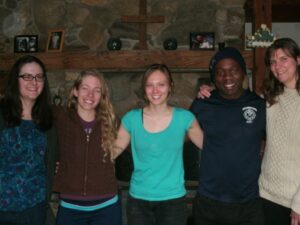 Ann says, "I'm so glad to join Agape's Mission Council!  What a gift to gather with such loving honest people.  Here's to Agape — may it continue to be a place of sacred transformation and radical love."
Together with her husband Edgar, another new member, Ann founded the Freedom Farm Community. The community works to educate inner-city youth on ecological and social justice through the lens of Christianity.
Kate is also looking forward to serving on the Mission Council: "I'm grateful to have the opportunity to serve on the Mission Council, because I want to be able to give back to a community that has nourished me spiritually and intellectually.   At a time when our country and our world seem to be ever more divided, I want to do what I can to work for peace and support the mission of Agape."
We are excited to have you all as we move forward!