International Women's Day & The Peace Pagoda
Yesterday, March 8, was International Women's Day. Suzanne and Brayton traveled to Smith College in Northampton to give a presentation entitled Loving our Planet: Sustainability, Spirituality, and the Ethic of Care. Suzanne also spoke about eco-feminism. Before the talk, she wrote:
"As Brayton and I prepare to go to Smith College for a presentation on "Loving Our Planet: Spirituality, Sustainability and the Ethic of Care", I am mindful of the women pioneers of conviction, courage, fearlessness who came before us.  In particular I am reading again about Abigail Kelly Foster and Lucy Stone, both from Massachusetts, both outspoken anti-slavery advocates, with Foster combining pacifism with tax resistance…a woman after my own heart.  Let's rejoice in our rich lineage of women and nonviolence in the United States from Lucretia Mott to Dorothy Day, from Susan B Anthony to our international pacifists Maired Corrigan McGuire, from Ireland, Kathy Kelly, of Voices in the Wilderness, Elizabeth McAlister, resistance stalwart and co-founder with her husband Philip Berrigan of Jonah House.  We honor and revere all women who nurture the ethic of care and sustain our planet with non-cooperation with the dominative power games of male patriarchies of church and state. Women of Peace, let us nourish and sustain one another."
Yesterday afternoon the sound of a steady drum marked the arrival of the monks of the New England Peace Pagoda, who stopped at Agape for an evening on their Walk for A New Spring to spread the ideas of Shared Security which will ultimately end in Washington, D.C. on April 27th. The Peace Pagoda was founded in Leverett, Massachusetts in 1985 in the memory of Most Venerable Nichidatsu Fujii, founder of the Nipponzan Myohohi.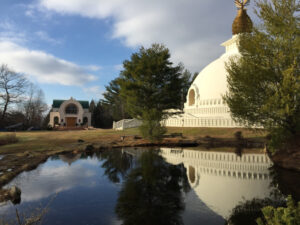 The purpose of the walk is to spread awareness and hope as we re-imagine national and global security. "Shared Security can be the ground where we can truly address the need to end poverty, mass incarceration, racism, the targeting of Muslims, immigrants and build a collective movement to address the climate crisis."

Sister Claire, Suzanne, Ven. Kato Gyoway, and Brayton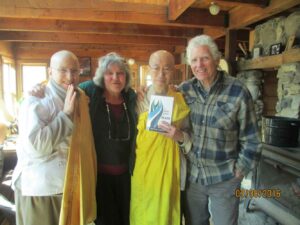 Before they departed this morning, we gathered outside in the warm sun as Sister Claire read from the Quaker wording on Shared Security: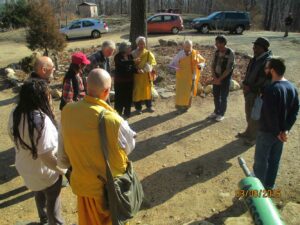 "We envision a new role for the United States in the world based on the pursuit of Shared Security for a global community.

We seek a new US foreign policy grounded in a deeper understanding of the challenges now facing our highly independent world. We believe in strategies that reflect a cooperative search for solutions to protect our planet, reduce violent conflict, advance social justice, and meet global needs. We understand  that our security in this country depends on advancing global security for all. Thus, we invite our senators, representatives and their staff to consider this thoughtful, realistic direction of pursuing national security through SHARED SECURITY. "
Below is a petition that you can fill out and send to the Peace Pagoda, either via e-mail [email protected] or mail to New England Peace Pagoda, 100 Cave Hill Rd., Leverett, MA 01054 peace-pagoda-petition-pdf As the temperature climbs to 72 degrees today, make sure you get outside and enjoy the spring-like weather!

Tags: Abigail Kelley Foster, New England Peace Pagoda, Smith College, Walk for a New Spring, women's day

Trackback from your site.