Alden Poole, Member of Agape's Mission Council, WWII Vet, Veterans for Peace, Ailanthus Rest in Peace, October 17, 2015
Alden Poole, Rest in Peace, October 17, 2015
Our beloved Alden, approaching age 90 on Oct. 31st has departed this world, leaving us grief-stricken, but not bereft. I first met Alden at Simmons College in 1978, after Alden and his wife Janet's long association with Ailanthus: A Nonviolent Witness for Peace began, leading to several arrests for both of them in resisting nuclear weapons. Since 1989, Janet and Alden had been tireless in their devotion to Agape as members of Agape's Mission Council. No one has ever heard Alden's WWII story of finding, as a young soldier of 19, the body of a young German with family pictures in his pocket, and not been changed by hearing it as Alden was by living it. After a short "recovery" time away from the trauma of battle, a forced return and another breakdown, Alden considered himself a coward for years. What followed was Alden's conversion to Catholicism and nonviolence through Dorothy Day and Thomas Merton after Janet sent him a copy of Merton's Seven Story Mountain nearly sixty years ago. Alden was a terrific speaker and in that role took on several Agape assignments, the most memorable of which was his appearance before several hundred juniors at Cathedral High School in Springfield, MA when he retold his battlefield and conversion story.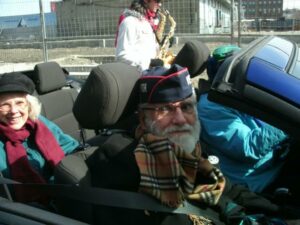 During the construction of Francis House in 1987, Alden traveled back and forth from Quincy two to three times a week for an entire summer as a skilled carpenter's assistant to our Master carpenter, Dan Lawrence and architect, Bob Wegener. Brayton recalls Alden's spirit and energy on site, his steadiness and equanimity.  Alden was a constant, uplifting companion whose commitment to Agape continues now from his eternal home.   Suzanne First, let's start with the name. Alden had a significant enough effect on life around him that he really didn't need a last name. "Alden" had enough force by itself. He took that name into the world with a certain amount of confidence and joie de vivre, and his fierce, can-do, forward momentum. A "goner" for peace, a card carrying Veteran for Peace, he was a tireless supporter of VFP public witness and spoke these words:  "War is wrong, deadly wrong. You can't fool a combat veteran." When Alden spoke, you listened. With nine children and a modest salary, Alden worked round the clock as a teacher and journalist while also learning carpentry, a source of great happiness. At the Francis House construction site in 1987, Alden was a convivial presence, continually offering a good word and a humorous take on what he saw going on around him. We fed sizeable crews every day with peanut butter sandwiches (sometimes with jelly). It was the food we could afford for a high protein job and many volunteers. Alden, a man with fine eating tastes often joked: "You know, you really built a three story building on peanut butter." Francis House is a testimony of Alden and his relentless giving to community. He frequently left the Agape work site in those days, saying: "I have to get home to have dinner with my bride."   Brayton Alden, you live in the very bones and marrow of Agape's sacred space, Agape's walls, joints, interior, magnificent and compelling beams. They all shout out to us, to you, present at Agape's birth, in this house, in the energy of your devotion and love. We will miss your handsome, quizzical smile, your serious and ever focused reflections on your life and how to find Christ's love within it.

Tags: Alden Poole

Trackback from your site.