Keeping It Real – Review of The Many Sides of Peace by Claire Schaeffer-Duffy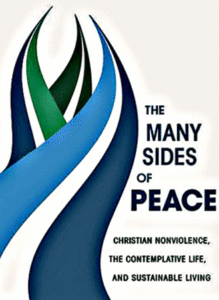 "I suffer from a shrinking heart," I confessed to the priest, and I was not referring to a bizarre physiological condition. It was summer, a tough season for me, an inner-city Catholic Worker. The isolating cold of winter had passed, and the chaos of my neighbors' lives tumbled out onto front stoops and into the street, impossible to ignore.
Two new families had moved into the neighborhood, bringing with them bedlam and drugs. They conversed in expletives and yelled constantly at their sweet, tiny children who fluttered about unattended. A Fourth of July argument over money between two of them devolved into an hours-long tirade. I fell asleep listening to fireworks and two of the women hollering: "You're a slut." " No, you're a slut."
Life within the Catholic Worker community was equally tumultuous. One of our homeless guests, who professed sobriety from heroin, was secretly abusing pharmaceuticals. One night, she smuggled in her male lover whom we found in her bed and ordered to leave immediately. I felt pity for the man so exposed among strangers.
We had a rash of thefts. Two laptops and several hundred dollars of petty cash stolen in nine months. It was not the loss of things that irritated me, but the maddening feeling of someone violating our trust.
I am accustomed to the chaos. I live at the Saints Francis and Therese Catholic Worker in a gritty neighborhood of Worcester, Mass. My husband Scott and I along with several others co-founded the small lay community back in 1987. Over the years, we have offered hospitality to hundreds of men and women in need and tried to witness, albeit falteringly, to the peace of the Gospel. It's a vocation that guarantees you a front-row seat to deception, turmoil and a lot of anguish.
Last summer, I didn't want such a view. "Come on, people, get a life," I kept thinking.
I was in this hardened, some might say "martyr's" mindset when I read Mercy in the City: How to Feed the Hungry, Give Drink to the Thirsty, Visit the Imprisoned, and Keep Your Day Job, Kerry Weber's account of her endeavor to practice the seven corporal works of mercy within a single Lent. Weber loves this purposeful season, untouched by crass commercialism, and seeks to make it more meaningful with her self-imposed challenge. The managing editor of America magazine, she already has an overly full schedule as a young writer living in New York City. Nonetheless, she rises early to distribute sandwiches on a soup line and pass out cups of water to runners during a 5K race in Central Park. She volunteers at the clothing room of the New York Catholic Worker, travels to attend a class for prisoners at San Quentin, interviews a laconic gravedigger, visits ailing nuns and stays overnight at a shelter for homeless men.
Can a person feed the hungry, give drink to the thirsty, visit the imprisoned and keep her day job? Weber's answer seems to be yes, if you are willing to go short on sleep.
I was initially judgmental about this book's intent. The works of mercy are not a to-do list for the task-obsessed, nor should they be reduced to an extracurricular project. But Weber writes with persuasive warmth and wisdom, gleaning rich insights from her sometimes hilarious attempts to finish the mercy assignment by Easter's deadline. Her determination inspires. Through persistent commitment to her mission, she discovers conversion is rarely a cinematic event in which we instantly flash from ignorance and sin to understanding and redemption. Rather, it is realized in the moment-to-moment decisions of our lives, in our willingness to plod through our own resistance to make room for God. Her experience with the works of mercy helped her see "how much of faith is a choice" and the need to respond to its call each day.
"There are so many ways to say yes," Weber writes. "Mercy is not something we bestow upon one another from on high in a sort of grand gesture, but rather something much quieter, more humble. It is an invitation, an openness, a kind of accompanying. To have mercy is to give mercy. And to give mercy is to empty oneself out to make room for the love of another."
Saying yes to the Nonviolent God of Love is the concern of my dear friend Brayton Shanley. For more than 30 years, he and his wife Suzanne Belotte have lived in a Catholic lay community attempting to implement the ideas of Gospel-centered nonviolence. Their homestead in Hardwick, Mass., is a flourishing example of how to live in right relationship with all God's creation. The Many Sides of Peace: Christian Nonviolence, the Contemplative Life, and Sustainable Living is based on a collection of Brayton's writings of the past 15 years on Christian nonviolence and the health of our environment.
In this time of looming ecological Armageddon, can we leave our ways of violence and war, our fear-driven addiction to acquisition, and live a simple, sustainable life of other-centered faith in the nonviolent God of love? Brayton's answer is we must. But you may indeed have to quit your day job.
"Virtuous living comes from love that is radical enough to bring about an authentic way of being and a pattern of living that realistically addresses the signs of the times," he writes. Big conversions are proposed in this far-ranging book, which explores nonviolent alternatives to war, our habits of violence and our ecologically destructive life-style.
These are how-to manuals for a life of faith. Mercy and peace are lovely ideas. Who can argue otherwise? Yet far too many of us believe they will mysteriously arrive in some utopian future. Weber and Brayton put them in the here and now. To spend a night with the homeless, after a long day of work, to build a straw bale house with composting toilet, are acts of faith in a merciful and ever-greening God.
Almost a year has passed since I received these books for review, during which our whirling world seemed to spin into a merciless state of affairs. I have traveled to the Middle East to interview refugees from yet more wars and continue to cook supper for the poor who will always be at the door. Of poverty's many forms, the deepest deprivation may be disbelief that a merciful God really loves us. I am as wanting in this conviction as any person.
Each year we circle toward the season of the Incarnation, when Christ says yes to us despite our warring ways, despite our disbelief. How good then to have these books upon my desk, to be reminded that mercy is accompaniment, my accompanying my yelling neighbor, a man no poorer than I, who apologized so poignantly after his Fourth of July outburst. How good to be reminded that coursing beneath the murderous chaos of the day is Eternal Love waiting for my embrace. "Life is a Thou not an it," writes Brayton. I say yes to that and to the suggestion of the priest, who upon hearing about my shrinking heart last summer, advised going on retreat.
---
Links: [1] http://americamagazine.org/sections/books [2] http://americamagazine.org/toc-past/2015-03-02 [3] http://americamagazine.org/users/claire-schaeffer-duffy [4] http://americamagazine.org/media/books/mercy-city [5] http://americamagazine.org/media/books/many-sides-peace